Käpylä Maanantai featured in the local newspaper Käpylä-lehti. You can read the full paper online at lehtiluukku.fi.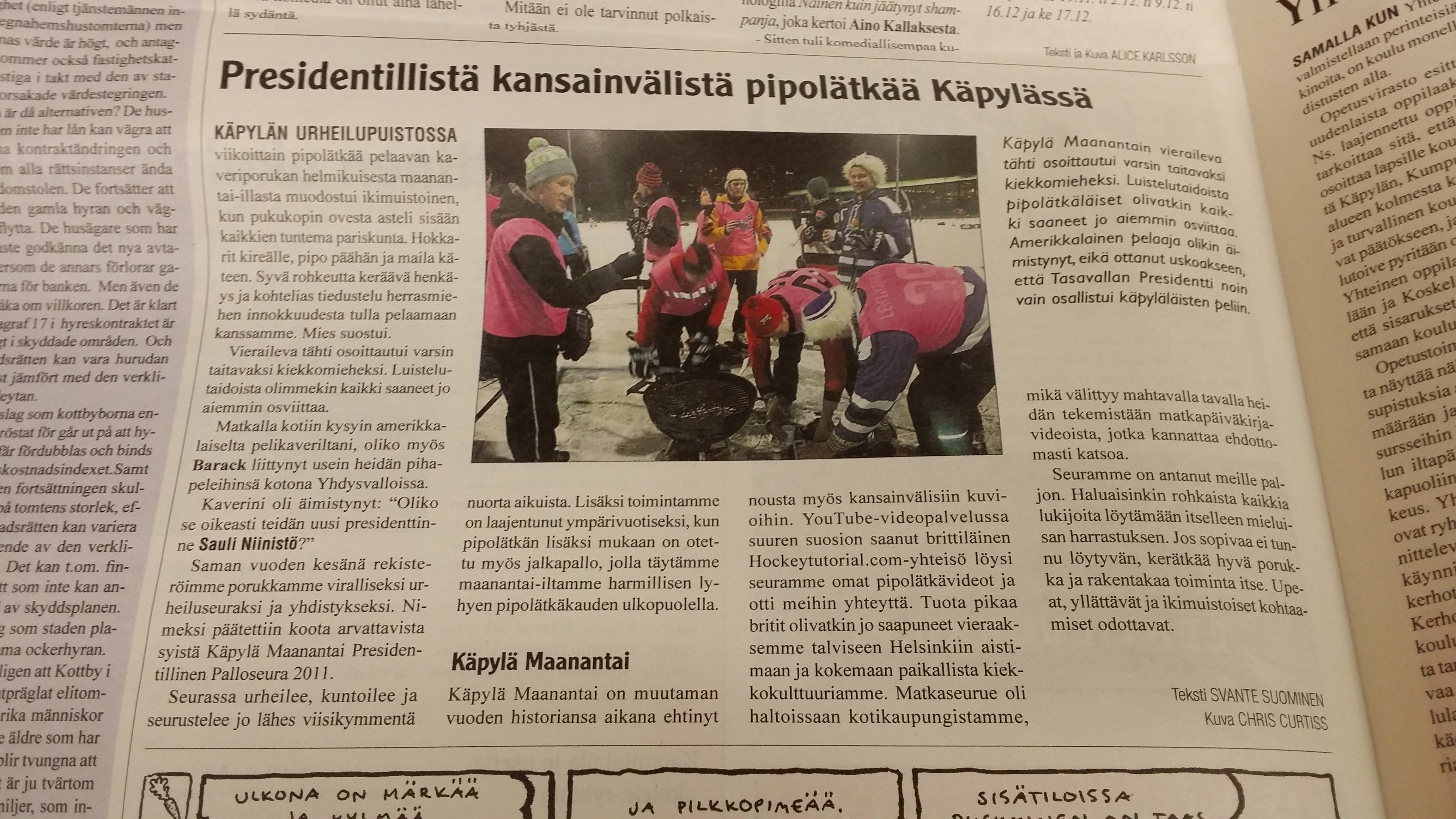 —
"International Presidential Pond Hockey in Käpylä"
Our Monday night hockey practices in the Käpylä sportspark were made unforgettable when a very known couple walked into the changing rooms one February evening. Skates done up, tuque on and stick in hand…we were filled with gentlemanly admiration as we gathered up the courage to ask one of them in particular to play hockey with us. He agreed.
Though we had all heard about this skating skills beforehand, the visiting star turned out to be quite skillful at handling the puck too. On the way home I asked our American teammate whether Obama also often associated with his neighbourhood hockey practices in the States.
My friend was amazed,
"Was that really your new President Sauli Niinistö?"
That same summer, we registered as an official sports team and association. Based on a few predictable factors, we called ourselves: "Käpylä Maanantai Presidentillinen Palloseura 2011" (Käpylä Monday Presidential Ball Club 2011).
Close to 50 young adults belong to our club, whether through sports, working out or meeting up. In addition to the disappointingly short pond hockey season, we've expanded to include a year-round program for our members by also playing football (not hand egg).
Within only a few years of starting, Kapylä Maanantai has already grown to international proportions! The British organizers at hockeytutorial.com, who enjoy much fame on Youtube, found our hockey videos online and reached out to us. They came to visit Finland in the winter to enjoy the local hockey culture and filmed our hometown in their must-see travel diary videos.
Our club has given us a lot and I would strongly encourage all readers to find themselves a hobby they're passionate about. If you don't find something that suits you, then get a great group of people together and create the community you'd like to be a part of. Extraordinary, surprising and unforgettable memories await…
Text: Svante Suominen
Translation from Finnish: Irina Pravet, Language Catalyst