Last month Käpylä Maanantai PP'11 hosted the celebrations of end of hockey season. String of festivities lasted for an entire day. Back office had been kept busy organizing the Spring Classic, Post Classic Player's Ball and The Presidential Award Sauna.
Käpylä Maanantai's Spring Classic has traditionally been internal scrimmage and this time around the Blue Team with the privilege to wear the sweater right side up had the upper hand. They showed impressive combinations and goalscoring ability in the offensive zone despite stellar display from the Team White's goalie Jari Vainio.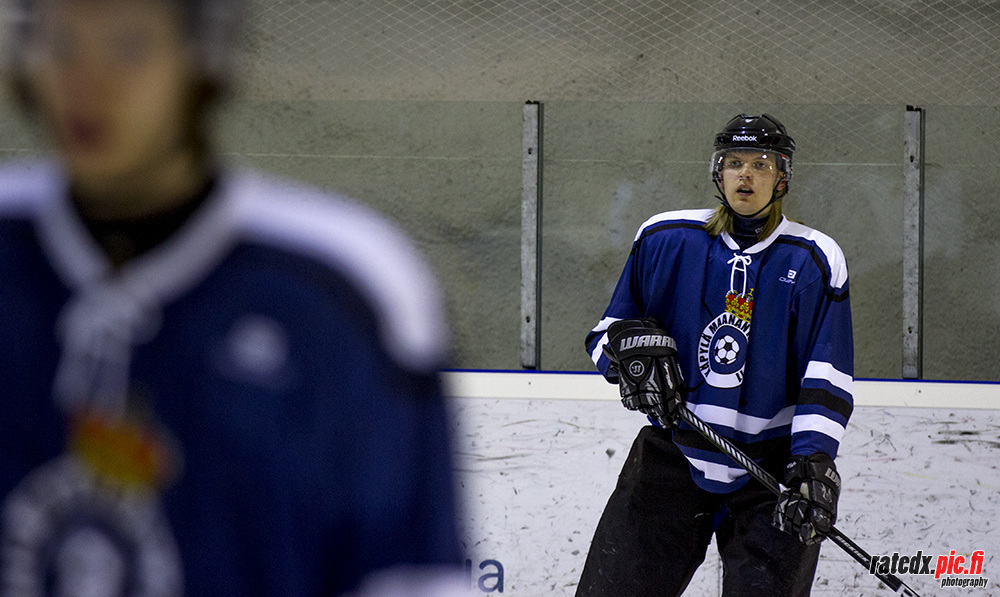 Karvanen & Mäkinen from the Blue Team
This was completely unlike the offense Team White created or rather did not create. The same goes to Jokerit, who gracefully capitulated against Rauman Lukko, thus forcing the Spring Classic to move from main Hartwall Areena to the early 90's heritage NHL postered practise cave and also keeping the door open for western Finland's meet up in the SM-Liiga Finals.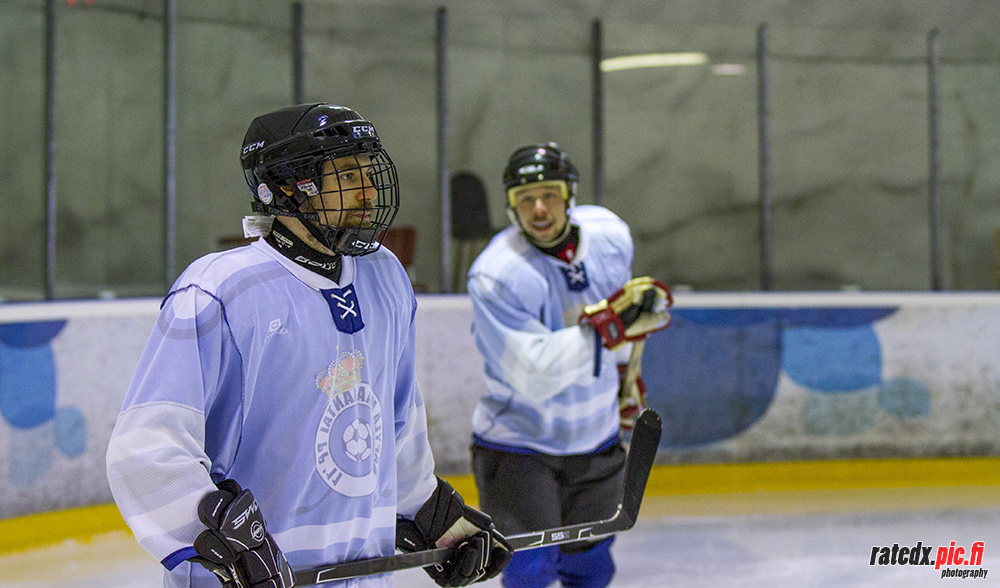 Kantola & Jaakkola from Team White
The Blue Team beat the Team White about 8-2.
After Spring Classic the time was ripe for the challenge of Viisi Penniä, Taka-Töölö's own 20-50's sports themed restaurant. Founded in 1956 the á la carte was full of classic dishes from Finnish country house cuisine. Great time was had by all. Grandma's Meatballs for 12 €. Highly recommended.
For award ceremonies the team took a short journey to Kallio where the Presidential Award Sauna was held at Arlan Sauna where early evening was spent with the locals. Two awards were announced.
Player's Player of the Year, the winner of Web-Veistämö Trophy for the 2012/13 Hockey Season, Jari Vainio  (Award announced by previous holder Tommi Virranvuo and President of Web-Veistämö, Svante Suominen)
Uploud Audio Award for passion towards the sport and KMPP'11 organization 2012/13 Hockey Season 2012/13, Steve Baynes (Award announced by CEO of Uploud Audio, Lassi Laitinen)
Käpylä Maanantai PP'11 Press Office will get back to you on more award news after the football season.
Some vote arguments:
Tekniikalla mennään eikä säkeille säälipisteitä..

Mahtavia pelureita ja Svante on homman moottori!

Oskari ei missannut yhtään ottelua mikäli matkaa paikalle oli alle 1000km.

Svante ei missannut yhtään ottelua. Jopa 1.1. futis 🙂

VP:llä kädet riittäis kynäilyyn, mutta jäbäl luistimet jäässä. Joukkuepelaaja!
Yhteinen perustelu. Vine poissa ja hyvällä meiningillä kaikis peleis!

BOOOOOOOOOOOOOOOLLO.

No kyllähän Holmesin puujalat on jo niin nähty että nyt kun edes jonkun pytyn sais niin vois huipulla lopettaa tuomaroinnit!
teot puhukoon puolesta.

Äänet perustuu puhtaasti tekemiseen ja aktiivisuuteen jäällä!

Kapteeni tekee pyyteetöntä työtä joukkueen eteen! Palkinto hälle!

Jaakkola noussut näissä peleissä elementtiinsä, ensi kauden voittajamateriaalia.

Pölyllä hyvä läsnäoloprosentti ja sopiva höntsämentaliteetti. Polvi pilas tämän kauden.

Svante on ykkönen, koska reeneihin pakkottaminen on toiminut lätkäkaudella todella hyvin.

V-Plle kakkos sija ihan vaan kikkojen takia"

Joutu äänestää ekana itteä, koska oon niin kova jätkä. Sen jälkeen svsuomin +kovasta järkkäilystä. Ja kolmantena Odex kovasta bollopelistä.

Ei voi jääkauden kenttätoiminnasta sanoa mitään kun ei oo päässy pelaamaan mut näillä mennään. 😀

Näkyi kentällä.

Joukkueenjohdolta loistotyötä paitahankintojen ja joukkueen motivoinnin puolesta! Siispä palkinto kuuluu ehdottomasta joukkueenjohdon suuntaan!

A-P Leskinen # 5: Teki vaikutuksen lyhen jääkiekkovuoden aikana tekemellä nöyrästi töitä voiton eteen ja erityisen ihailtavaa oli seurata, kuinka ihmisen ruumis kestää luistinten pettäessä monenlaisia iskuja ja vääntöjä.

Erno Iipponen # 77: Taitavimmat kädet sujautettuna rumimpiin lätkähanskoihin. Yhdistelmä, jolla puollustuspäässä taijotaan mahtavia avauksia.

Joni Simonen # 38: Omaa mahtavan pelisilmän, joka tulee parhaiten esille kameran takana. Ei pelipäivää ilman murtuneita kylkiluita, taisteli kivusta ja särystä huolimatta."
Oskun one-linerit! Aatun luistelut! Vepen tupla-ylämummot ballackia koko matsin ajan.

Aktiivisuus

Fanikrääsä ja peligearit

Dokumentointi"

Aina paikalla. Aina järkkäämässä.

Miehemme maailmalla

Menkää ja täyttäkää koko maa Käpylä Maanantain urheiljoilla"

Maalivahtiesitykset Karjaan jääkiekkoleirillä!

Crash-cam -pätkä Karjaan jääkiekkoleirillä"

Svante on puuhamies joka on palkintonsa ansainnut. Kannustaja ja vastuunkantaja vailla vertaa.

Lassi on aina täysillä mukana. Todellinen teamplayer ja tsemppari. Ansaitsee siis hopiaa.

Hekki on rehti perusvarma pipolätkäpelaaja. Täten ansaitsee ronssia"

kovia näyttöjä

Jari: Ollut kova jäällä. Maila hallussa

Ari: Karvalakki ja haluu tehdämaaleja

Simonen: Taistelija kylki ja kaikki paskana. Hyvän näköst duunia filmaamisen ja kuvien kanssa."