09:13 Nousta ja loistaa. Let's just say I'm not the strongest follower of "early bird gets the worm".
Side Note: Chad and I were up late the night before pasteurizing 12 L omenamehua and making 25 L of kova omenasiideri from omenoita we picked in Helsinki. If you do one thing today visit this awesome website (https://satokartta.net/) and find some free fruit near you!
09:19 Play with my mäyräkoira in bed. Her name is Papu. This is a picture of Papu playing dead: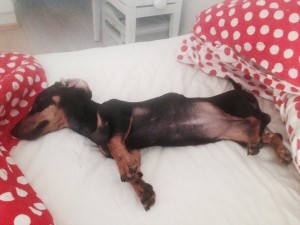 09:57 Take Papu out for a brisk morning kävellä around the block.
10:17 Do 1 load of laundry, dark colours. They say it is good to pesu all your dark colours together, so I try to do that as often as possible.
10:36 Manage to throw some stuff on a few hapankorppujat. Breakfast of Champions and all.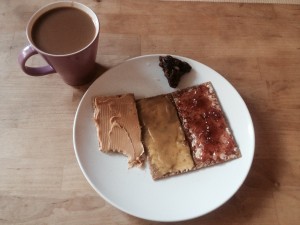 11:08 Dish washing time, yippee. Around 2+ hours of dishes along with the sweet grooves of Radio Sun Classics Helsinki 102.8 megahertsia. I think I will ask Joulupunkki for a dishwasher.
13:19 Finally sand and wash a heritage hylly I found in a dumpster some months ago. It needs a little love, but now finds a new home in our WC.
15:24 My friend Jussi comes over. We enjoy a cuppa tea with his lovely mother's mustikkapulla and discuss the future of Suomi.
17:02 Bus to my friend Wade's place because I forgot the Tommi Virranvuo Palkinto in his car the night before. Idiootti.
18:14 Arrive back home, trophy in hand. Throw all my jaakiekko crap together and make tracks towards the heritage establishment Viisi Pennia.
18:46 Miss the raitiovaunu by 10 seconds. Typical.
19:10 Arrive at Viisi Pennia. The place has a modern, less heritage, feel to it and I'm not sure if I like it…it will certainly take some getting used to. Of course, all the punctual Finns are there and have ordered dinner. A great dinner with the boys including a couple tuoppia of fantastic pumpkin ale. For dessert, I proudly pass on the Tommi Virranvuo Palkinto to the new player of the half-year, Robin Reichardt!
21:03 The matka to Trio Areena begins in Pyry's speedy new "hot rod red" Volkswagen.
21:25 We arrive at Trio Areena in one piece. Chad and I hurriedly rush to the skate teroitus room before puck drop. This is a truly magical room; you can feel the history as soon as you step inside. It also has the best floor mat I have ever seen. As far as hockey sticks and many other things go, "they just don't make 'em like they used to!"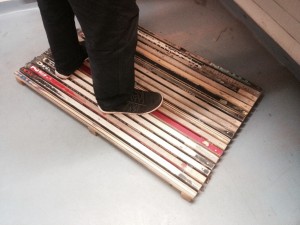 22:00 Game time! We are on the secondary rink for this game, complete with an illogical 1-gate bench and ultra heritage score clock. First period is fairly even with shaky legs from a couple beers, perhaps. Second period we begin to pickup speed and control the game with more puck possession and time in their zone. Third period we break away from them on the scoreboard and finish the game strong. 9-2 final tally for the good guys. All in all, not a very haastava ja hikinen game but a solid early performance to gear up for the hockey season.
23:25 Good vibes and delicious beverages flow pukuhuoneessa post-game, the latter provided by team newbie Mikko Nikander (kiitoksia!). Time to bathe, pack up the bag of stinky stuff, and call it a night. Until next time boys 😉
Cheers,
Steve #9
Blogging next week will be our superstar defenseman VP Lehtikangas!